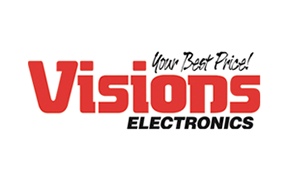 Visions Electronics

Boxing Day flyers, sales & deals 2020
Visions Electronics is a fully-Canadian retailer of brand-name consumer electronics. The company started as a video rental store with a staff of 2, Richard and Jean Stewart, in North East Calgary.
Today, Visions has a total of 30 retail locations from North Vancouver, BC, to Winnipeg, MB, selling a wide range of consumer electronics goods with divisions that include Business Solutions, In Home Set-up Solutions, and Dream Gallery by Visions (Mattress Retailing). The company's corporate headquarters is in Calgary, Alberta.
2019 and Older Visions Electronics Boxing Day Archive
Visions Electronics' Boxing Day begins December 26th at 6am (for the keen online shopper it begins at 8pm December 24th).   There will be unlimited quantities and prices will last all day (items are limited to 1 per customer/family)!  As well, earn double reward air-miles on all products in the store.  Savings will be as high as 75% on selected merchandise.  Across the 31 locations there will be insane deals like $200 off any laptop or 50% off car installation labour, so be sure to come in and see what we're offering.